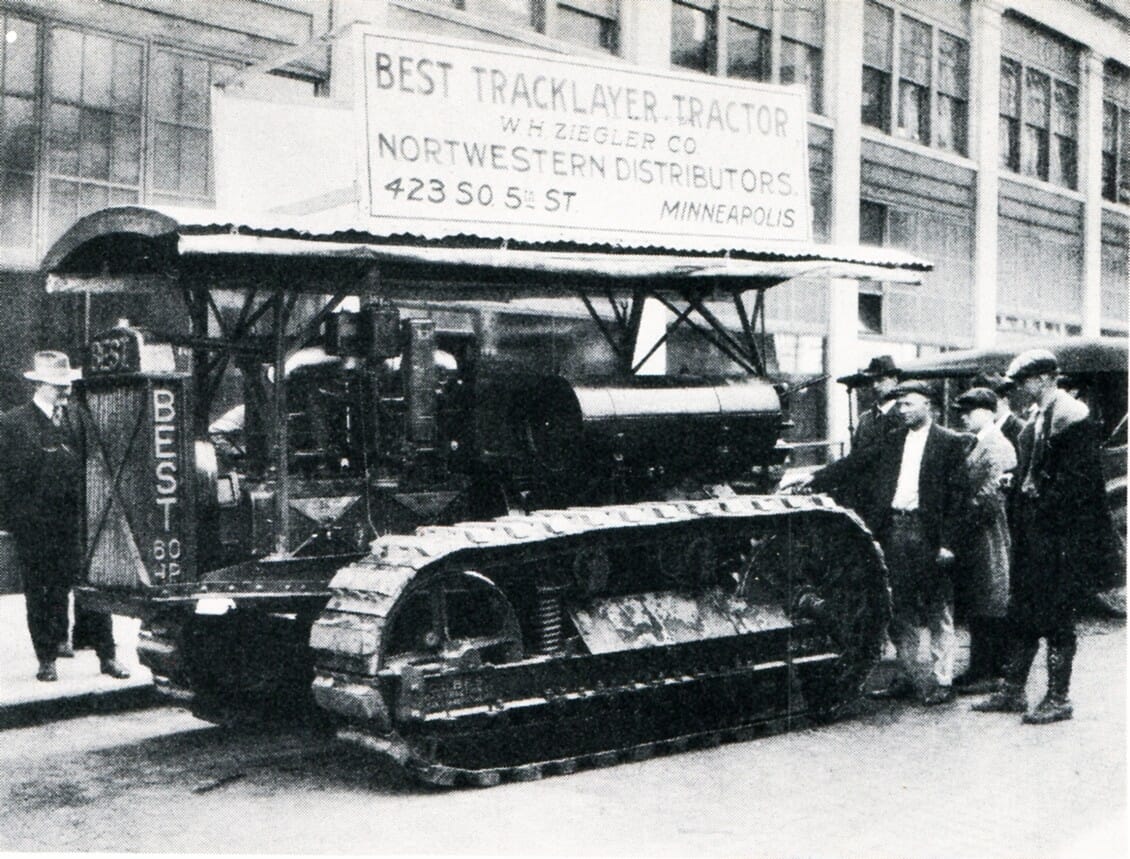 Published on October 20, 2020
Ziegler History: Foundations
Foundations
After spending six years with the Chicago & Northwestern Railway Company and nine years with the Peteler Car Company, Minnesotan William H. Ziegler founded Wm. H. Ziegler Co. Inc. in December, 1914. Ziegler started in an eighty-square-foot office space in Minneapolis.
At the time of being founded, most manufacturers sold direct to customers, which often resulted in slow delivery of machines, limited parts availability and no opportunity to have equipment serviced. Ziegler sought to change this and started one of the first companies in the area to have readily available inventory of heavy machinery and parts as well as the ability to provide service for machinery.
Guiding principles
William founded the company on one simple philosophy of "honest goods and square dealings" which has been the guiding aim of the company for over 100 years to provide "efficient service and a desire or will to serve, regardless of cost in money or personal effort."
In addition to a focus on placing the customer's needs ahead of profit, Ziegler was founded with the idea that price should never be the key priority in deciding which brand of equipment to sell, but rather to place emphasis on "[getting the] greatest value in returned performance for every dollar invested [in a machine]."
Lastly, the employees of Ziegler have been critical to the success of the company, and one of the primary reasons for this success is that all employees that have worked for the company feel that they are engaged in "a worth-while enterprise, willing and determined to serve to the best of their ability."
Otto c. johnston
Otto C. Johnston was brought on as Ziegler's first sales representative and would later go on to serve as an Executive Vice President. Johnston once told his colleagues "if you haven't got the guts to gamble and use your boots in a knockdown, you can't win." He would practice what he preached by saving a customer from leaving Ziegler for the competition. In the early 1920's, R. P. Englund had decided to purchase a Monarch tractor, so Johnston, along with Herb Hoppe (Ziegler's Chief Mechanic) visited the customer's jobsite and made a bet that they could modify a Best tractor to outperform the Monarch that the customer had purchased. Englund ended up remaining a Ziegler customer after the Best outperformed the Monarch tractor.
Johnston was responsible for forming relationships with the C. L. Best Gas Traction Company and eventually sold the first ever C. L. Best "Sixty" tractor (predecessor of the Cat D8) to the Minneapolis Park Board on May 6, 1920.
moving from horses to machinery
Another documented story mentions a skeptical Minnesota contractor having doubts that the "Sixty" tractor couldn't pull an elevating grader as well as horses, which led to a free five-day demonstration put on by Ziegler.
Believe it or not, one of the biggest challenges in selling the first track-type tractors was that contractors and farmers had to find a solution for the horses the machines were replacing. Johnston's brilliance struck again, and he found a horse trader willing to purchase and care for any horses needing new homes as a result of machines being purchased.